Geological Engineering is the branch of Engineering that deals with the resolution of problems related to the direct and indirect interaction of man with the geological environment, understanding it as the support of human activities.
Mision To form professionals that contribute to society with solutions of geological problems to improve its quality of life, promoting sustainable and equitable development, through the integral and competent research and innovation in earth sciences.
Vision To be a reference for international geologist community who respond the need of society complying the highest standards.
Program Educational Objectives
The graduates of the GE program after five years of professional practice will have:
Applied their skills and knowledge of geosciences, considering the scientific and technological advances, to contribute to the sustainable development of society.

Designed, planned, executed, managed or started geological engineering projects integrating technical, environmental and socio-economic variables or constraints, according to society's demand.

Applied current legal, environmental or labor regulations in the different stages of the implementation of geological projects for their sustainability.

Proposed, investigated, developed or applied solutions related to Earth Sciences and the transfer of knowledge, with the purpose of contributing to the scientific, technological, social, economic, environmental and political development of the country.
Professional Profile / Educational Objectives
Collaborate in the solution of professional challenges at the national and regional level applying their knowledge of Engineering in Geology and Earth Sciences, considering the social, economic and environmental aspects, all framed in the ethical and moral.
Communicate effectively in both Spanish and English, working as part of specialized teams and / or multidisciplinary in various cultural environments.
Posing and leading the development and implementation of solutions linked to Geological and Earth Sciences Engineering, either as a manager of a business of its own or as an employee of a company and thus contribute to the welfare of different segments of society.
Acquire and improve skills, technical and scientific knowledge, throughout the professional life, taking into consideration the technological and scientific advances related to Engineering in Geology and Earth Sciences.
Student Outcomes
Since 2019, GE program follows the ABET 1-8 list to provide an educational experience to students who complete our program must demonstrate the following competencies:
1. An ability to identify, formulate, and solve complex engineering problems by applying principles of engineering, science, and mathematics.
2. An ability to apply engineering design to produce solutions that meet specified needs with consideration of public health, safety, and welfare, as well as global, cultural, social, environmental, and economic factors.
3. An ability to communicate effectively with a range of audiences.
4. An ability to recognize ethical and professional responsibilities in engineering situations and make informed judgments, which must consider the impact of engineering solutions in global, economic, environmental, and societal contexts.
5. An ability to function effectively on a team whose members together provide leadership, create a collaborative and inclusive environment, establish goals, plan tasks, and meet objectives.
6. An ability to develop and conduct appropriate experimentation, analyze and interpret data, and use engineering judgment to draw conclusions
7. An ability to acquire and apply new knowledge as needed, using appropriate learning strategies.
8. A recognition of the need for entrepreneurship and the abilities to become an entrepreneur.
Program Enrollment and Degree Data
Table of freshmen students in the Geological Engineering program.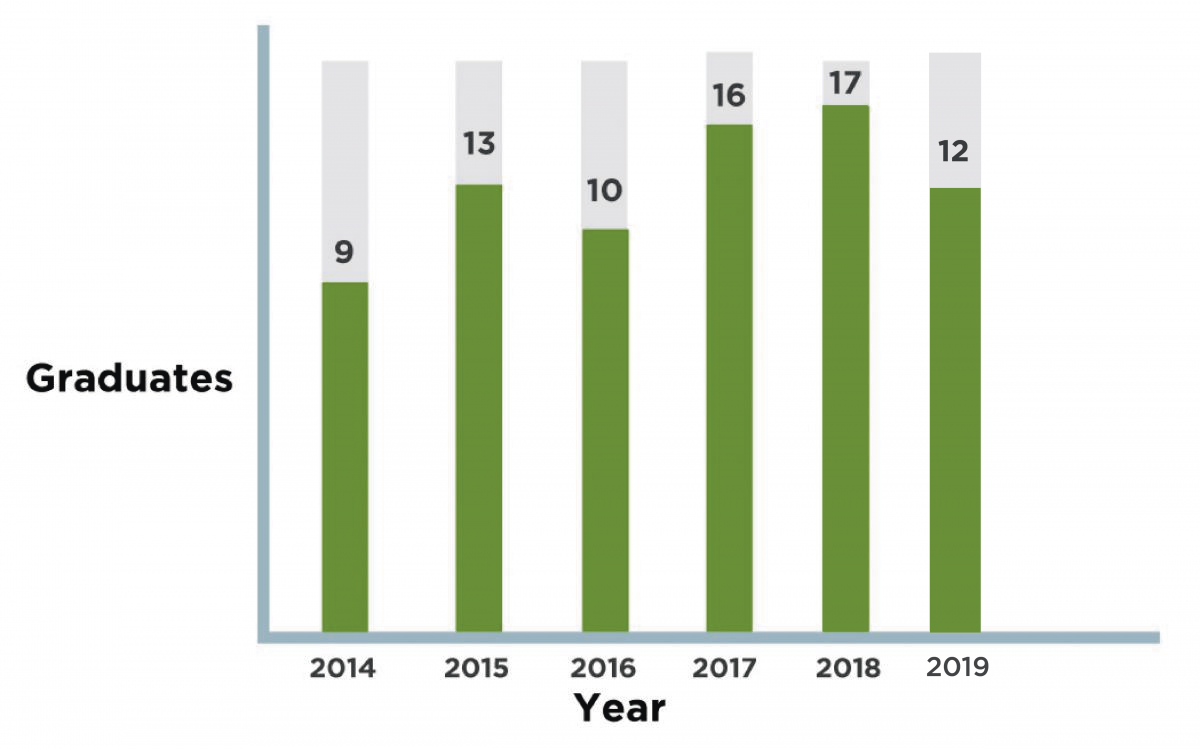 | | |
| --- | --- |
| Year | Graduates |
| 2014 | 9 |
| 2015 | 13 |
| 2016 | 10 |
| 2017 | 16 |
| 2018 | 17 |
| 2019 | 12 |
 List of undegraduate students since 2014.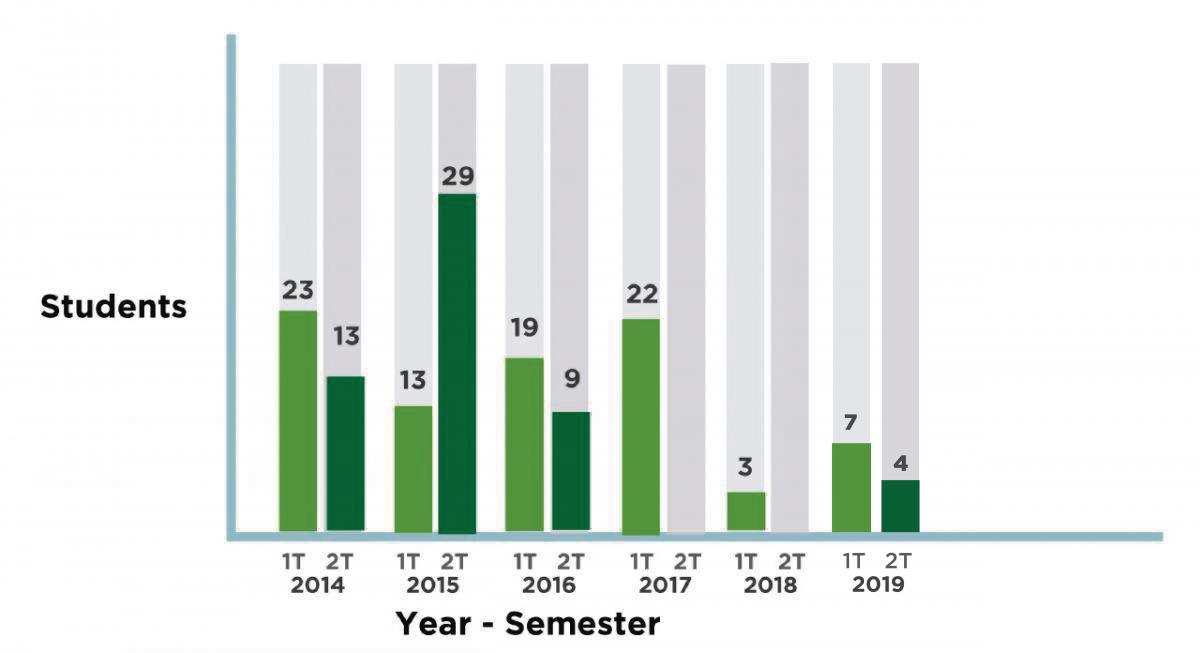 | | | | |
| --- | --- | --- | --- |
| Year | Students 1T | Students 2T | Total Students |
| 2014 | 23 | 13 | 36 |
| 2015 | 13 | 29 | 42 |
| 2016 | 19 | 9 | 28 |
| 2017 | 22 |   | 22 |
| 2018 | 3 |   | 3 |
| 2019 | 7 | 4 | 11 |
Curriculum: